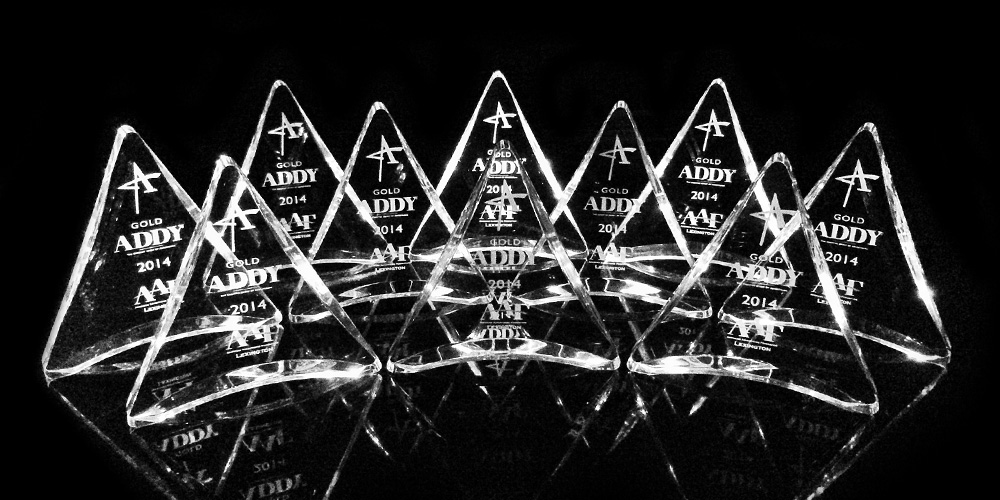 Oculus Studios, a Lexington Marketing & Advertising Firm, receives 61 ADDYs from AAF (American Advertising Federation).
Oculus Studios, led by Brock Smith and Whit Bussey, is an ad firm rooted deeply in the heart of Lexington, Kentucky. The Oculus team prides itself on creating work that strives to be effective, inspire their audience, and ultimately raise the bar in advertising. This is their third year participating with the Advertising Federation Awards, and were commended for their tireless efforts in the form of 61 awards.
The awards available to the entrants encompass a variety of topics and services provided, including commercials, digital advertising, copywriting, logo design, and animation. The judges chose from the nearly 400 entries included in this year's competition.
Oculus is proving to competitors that with a dedicated, focused, creative approach to each of their projects and an enthusiastic eye for detail, they are definitely a force that continues to be reckoned with.
AAF Lexington is the 60+ year old Lexington, Kentucky chapter of the prestigious American Advertising Federation. Their mission is to foster, promote and maintain high ethical standards in advertising, to expand the recognition of advertising as a profitable business tool.
AAF Lexington is affiliated with the AAF 5th District which includes such large markets as Louisville, Cincinnati, Columbus, and Cleveland in which Oculus won 3 silver awards.
Follow Us:
www.OculusStudios.com
www.Facebook.com/OculusStudiosKY
www.Twitter.com/OculusStudiosKY
www.Vimeo.com/OculusStudios